The Complete Beginner's Guide to RV Solar Battery Chargers
This article will provide a quick overview of the 12-volt solar-powered RV battery chargers currently available. A buyer's guide is also included at the end of this article. This guide will help you choose the best solar battery charger.
Why is Renogy our favorite for 12-volt solar battery chargers?
Renogy is our top choice for the best 12-volt solar chargers for RV camping in 2023. This is because of its remarkable combination of manufacturing quality and the most recent solar technology. It also offers power reliability and…affordability you can!
Yes, Renogy currently has the lowest price on solar chargers. We are sorry competitors, but this is the truth.
Renogy is at the forefront of RV solar gear thanks to its advanced technology and constant improvement efforts. We were impressed by the Renogy 200W Suitcase kit's performance and felt that it was worth the cost for the huge solar output this solar charger kit offers. All Renogy solar charger systems utilize top-of-the-line solar panels for maximum light absorption while minimizing power drop caused by cloud cover or shaded areas. These panels are easy to see and you can feel the quality of their manufacturing.
Renogy claims that its solar modules are capable of enduring high winds (up to 2,400 Pa) as well as snow loads (up to 5,400 Pa). Unfortunately, we have not yet done any testing in such conditions. Please leave a comment below if you did. They are lightweight and portable because they are attached to a strong aluminum frame that resists corrosion. You can mount them on your RV's roof using the pre-drilled holes provided on the back. Or, you can mount them on the ground.
We love Renogy's solar charger kits for solar batteries. The wide selection of panel wattage options and the hundreds of positive reviews are just a few of the many reasons we like them.
Top List Solar Battery Charger RV
View on Amazon
7.0/10 ★ Solar Charging Speed
8.5/10 ★ Low Light Performance
10/10 ★ Portability
10/10 ★ Price
Renogy 50W solar kit we recommend the smallest wattage system for 12-volt battery charging You will be frustrated if you use less than 50W. The number of solar cells on a panel will affect the charging speed. More solar cells means more energy can be absorbed by the panel and converted to electricity.
This product is best suited to small power users.
Compatible with deep cycle 12V Types of batteries: Seal, gel, and flooded.
The Renogy 50W kit's ideal battery capacity is a 12V battery bank that can withstand 70 amp hours.
Lifestyle for small power consumers
Here is a rough breakdown on how many amp hours small power consumers use in an average day.
one overhead light, for 3 hours (6 Ah)
and a water pump for 40 minutes (8 Ah)
charge a phone for 2 hours (4 Ah)
charge a laptop for 1 hour (5 Ah)
other miscellaneous items, such as clocks, carbon monoxide detectors, etc. (2 Ah)
Consumption total: 25 Ah
Charge Controller
The 50W RV Solar Kit comes with the 10A Powerful Motor Control (PWM) Manual book. This high-tech device uses advanced digital technology. It is very simple to set up and protects your battery bank from over-charging or discharging. It works completely automatically, It allows you to expand your system up to a maximum of 120W.
Results of the charging speed test:
Our testing process was simple. The 50W solar charger was connected to a 50-watt battery of 50 amp hour rating. We then measured how long it took to fully charge the battery. Renogy 50W Solar Panel. Fully charged our battery to 50 percent in 6.5 hours in direct sunlight, it takes about 9.5 hours to charge. It can also be charged in partly cloudy conditions for 9.5 hours. The main problem with the speed of charging is its small size. However, this is normal as it has a smaller solar panel with more solar cells than a 100W panel.
View on Amazon
9.0/10 ★ Solar Charging Speed
8.5/10 ★ Low Light Performance
9.5/10 ★ Portability
9.5/10 ★ Price
The Renogy 100W Solar Starter Kit is perfect for people looking to start their solar lifestyle. This system is great for any off-grid uses, such as small cabins, RVs, sheds, and boats. The kit has everything you need to get started.
The portable version of the Renogy 100W is a perfect option if you don't want to mount panels on your RV or camper. Setting up a portable system to charge your battery bank takes just a couple of minutes. It comes with adjustable legs and the panels fold up together for easy mobility.
Best suited for conscious power consumers.
Compatible with 12V deep cycle battery types: sealed, gel and flooded.
Ideal battery capacity for the Renogy 100W Kit: 12V battery bank rated up to 100 amp hours.
Conscious power consumers lifestyle
Here a rough breakdown of the amp hours used by conscious power consumers in an average day:
one overhead light for six hours (12 Ah)
water pump running for one hour (12 Ah)
charging a phone for two hours (4 Ah)
charging a laptop for two hours (10 Ah)
running a vent fan for five hours (10 Ah)
watching a 12-inch TV for one hour or using a stereo for two hours (4 Ah)
other miscellaneous items such as clock, carbon monoxide detector, etc. (2 Ah)
Total consumption: 54 Ah
Charge Controller
The 100W standard solar kit comes with the 30A Wanderer charge controller and the portable kit comes with the 30A Adventurer charge controller. Both of these RV solar charge controllers allow you to expand your solar system up to a maximum of 400W.
This additional RENOGY 100W monocrystalline solar panel is a perfect solution for future expansion on the solar kit.
If you decide to go with the 100W or 200W standard solar kit, we highly recommend you get some of these adjustable solar panel roof tilt mounts for the panels as this will allow you to change the angle of the panels for maximum power output. Most people tend to ignore this factor, but here's why it's important to be able to tilt your RV solar panels:
Tilting = More solar power! This is the main reason you should tilt your solar panels. With a proper tilting kit such as this one, you can boost your solar power output up to 20 percent more in sunny days and up to 40 percent during the winter months or partially cloudy days.
Extreme temperatures affect solar output. Tilting allows the air to move around the panels and this will keep them cooler when the sun is too strong. Keeping panel temperature as close as possible to 77 degrees Fahrenheit (that's 25 degrees Celsius) will significantly improve your solar panel's output efficiency.
Charging speed test results:
It took around 3.5 hours (in direct sun) to fully charge a 12-volt battery rated at 50Ah from 50 percent charge and a bit more than 6 hours in partially cloudy weather. It's a significant difference from the 50W solar panel. With the 100W solar kit you really start to feel the real potential of solar energy.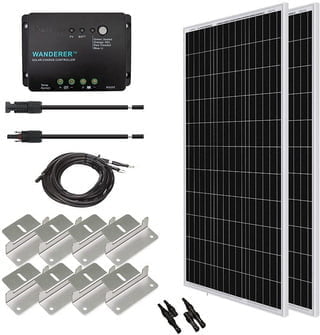 View on Amazon
9.5/10 ★ Solar Charging Speed
9.5/10 ★ Low Light Performance
9.0/10 ★ Portability
8.0/10 ★ Price
UPDATE: We just wanted to update you after owning two portable solar panels 2x200W for nearly six months. It is still in use and we love it. We have not had any performance problems with the panels, which are now collecting sunlight every day. We learned how to make our energy more efficient, and are pleased with the results. A new system takes a few months to get used to and to learn how to use it. This is true for any new purchase in your life, including a new car. One of the support legs gave out on us. They aren't very strong so we had it fixed at a local shop. It was an easy $10 fix.
Our 200W portable system was just upgraded by an additional 200W system. We also increased our battery bank capacity from 400 amp hours to 400 amps. What did you get? It's amazing! Our battery bank has a lot more solar than we use, but we do spend a lot time in our RV so it is important to have enough.
This product is best suited to average power users.
Compatible with deep cycle 12V Types of batteries: Seal, gel, and flooded.
The Renogy 200W Kit's ideal battery capacity is a 12V battery bank that can withstand 200 amp hours.
Average power consumers lifestyle
Here is a rough breakdown on how many amp hours an average power consumer uses in an average day.
Running lights for 10 hours (20Ah)
Running a water pump for one hour (12 Ah)
Two hours of watching a large television (12 Ah)
30 minutes in a microwave (40 Ah)
Using a laptop that has been plugged in for at least four hours (24 Ah)
Run a vent fan for 8 hours (16 Ah)
Other miscellaneous items, such as clocks, carbon monoxide detectors, etc. (2 Ah)
Consumption total: 126 Ah
Charge Controller
The 200W standard kit includes the 30A Wanderer charger controller, while the portable kit includes the 30A Adventurer charger controller. You can expand your solar system to maximum 400W with both controllers.
Results of the charging speed test:
The 200W solar panel kit performed very well. In just. Our 50Ah battery (12V) can be recharged in 50 percent to 100% sunlight for 2 hours. Without interruption.
The 200W module's performance in cloudy conditions is a significant improvement. The 200W panels took approximately 4 hours to recharge a half-drained battery in partly cloudy conditions. They absorb sunlight more effectively than the 50W and 100W panels, which is evident because they have more solar cells.
If you live in an area with less sunlight, a 200W+ kit is a good option.
View on Amazon
10/10 ★ Solar Charging Speed
9.5/10 ★ Low Light Performance
6.5/10 ★ Portability
8.0/10 ★ Price
This product is best suited to power users above average.
Compatible with deep cycle 12VTypes of batteries: Seal, gel and flooded
The Renogy 200W Kit's ideal battery capacity is a 12V battery bank that can withstand 200 amp hours.
Controller for Charges
The 400W solar kit includes the 30A Wanderer charger controller. You cannot increase your wattage in this case as the charge controller can only support 400W.
Charging speed
This kit is the ultimate solar charging solution for anyone. This kit is fully compatible with all major solar chargers. In just 3 hours, you can charge a 200-amp hour battery bank at 50 percent from your home under direct sun. Although the panels take up some space, they will not be limited in power output.
The Complete Guide for Solar Battery Chargers: A Beginner's Guide
Your RV's electrical system is based on RV batteries. They are essential for all things. We'll be discussing how to harness solar power to charge your RV batteries. Also known as RV solar systems, these chargers can also be used to charge and maintain the RV's solar panels.
What Is an RV Solar Battery Charger?
An RV solar battery charger charges your RV batteries using solar power. This can be used to describe any RV solar system that you may have heard of. Although RV solar systems may seem intimidating, they all have one function: to charge your RV batteries.
Without a plug-in power source (e.g. Your RV batteries will provide all the power you need unless you connect to a power source, such as shore power or a generator. Without proper battery charges, your fridge, furnace and lights will not work. People often use the sun's energy for their RV batteries to charge them.
The RV solar system can be made for specific purposes and come in various sizes. There are three basic ways you can set this up:
Did you ever get to your RV or car after it had sat for so long that the battery died? The sun can be harnessed to make your batteries last longer for vehicles that are outside. The RV solar battery tenders "tend" your batteries. This means that they are charged and healthy even when you aren't at the RV.
Portable Solar Panel Kits
You can hook up your RV batteries to a Portable Solar Panel kit to charge. Most portable kits have a 50-200 watt rating. These kits can be used to meet your basic electrical needs. These kits are all-in-1 and do not require any installation knowledge.
Large RV solar systems are complete with solar panels, charge controllers, wiring, and batteries that are integrated into your RV. The large versions can charge your batteries, just like other solar systems. They can also be used as primary power sources. These complicated systems are not for the faint-hearted. They are embedded in the vehicle and require knowledge of electricity to install.
What Can RV Solar Battery Chargers Do?
There are many options depending on which RV solar battery charger system is used. You can get different results. You will also need to consider your RV's style and power requirements. This will impact the type of system you choose.
Trickle Charge: 10-50 Watt Chargers
Normally, batteries discharge slightly even when not in use. The battery charger can be used for trickle charging, which charges the battery at a slow rate to keep it full. The battery type may have limitations. If the battery is discharged too deep, it can cause serious damage and decrease its lifespan. All three types mentioned above can charge batteries trickle. This helps keep them charged and lasts for as long as possible even if you aren't using your RV.
Provide Power for Light Use: 50-100 Watt Chargers
You can expect to use your small solar battery charger sparingly while the solar provides the energy you need, thus keeping the battery fully charged. Solar does not work at night, for example. The battery will give you power for the night, and the solar system will recharge the battery the next day. Light use is when you are using light energy to power small electronics, charge your cell phone batteries or recharge your camera batteries. Portable solar panels or a small system are great for this application. These systems cannot be used to power TVs and computers. They require a generator.
Medium Power Use: 100-600 Watt Chargers
Medium-sized RV solar charger systems can power your RV's lights as well as DC appliances like the fridge, water heater, or furnace. For light AC applications like running a computer or TV, you can also run a smaller unit. These systems can be used in conjunction with a generator, which will reduce the generator's runtime.
Power Everything: 600 – 4000 Watt chargers
This system, unlike the others, includes an inverter that converts power to AC. You can also run TVs, computers and other high-powered appliances, just like in your home. Limitations on how much power you can run are determined by the size and weight of your RV roof, space and weight limitations of the RV, and cost restrictions. With a large enough system, it's possible to even run the air conditioner or charge an electric car. A large, well-designed solar system will not require a generator as it provides the majority of the energy.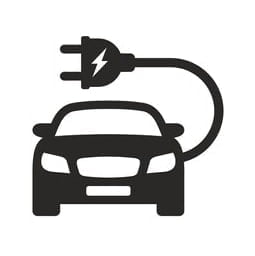 These systems are extremely useful for camping without electricity. These systems provide enough energy to go camping in the wilderness and in cities without the need of a generator.
How Do RV Solar Battery Chargers Work?
All RV solar systems have off-grid solar chargers. Their primary function is to charge batteries. Solar battery chargers are made up of at least two components: the solar panels and the controller.
Solar Panels: Solar panels these panels are used to capture energy from the sun and turn it into electricity. There are many types of solar panels. Most are made from silicon crystals and glass. Flexible or foldable solar panels are also possible for portability.
Solar Charge Controller: Once the panels have produced electricity, the electricity must be converted into something that the battery can take. To properly charge a battery, it needs to be able to accept a specific voltage and current. The battery's charge controller is what it calls. In larger systems, these charge controllers may be separate units or integrated into solar panels. To prevent any damage, the charge controllers will stop charging the batteries when they become full.
View on Amazon
The batteries can charge the RV and provide power. The batteries can also store solar energy for when the sun isn't shining enough to power the RV. The stored current is transferred to any device that uses electricity when it is plugged into the batteries. As the battery is used, the voltage drops and the charge controller will notify it that it requires power from the sun to recharge it.
Ready… Best RV Solar Controller
RV Battery Type Considerations
We now know that all RV solar systems use battery chargers. Let's take a look to see the various types of batteries that are available for RV's.
Lead-acid batteries have been the only viable energy storage device for RVs and cars for a long time. These batteries are made from a chemical reaction of an acid electrolyte with a metal (lead), to store and release electrons. These batteries can be divided into two types: AGM and flooded. Let's take a quick look at these types.
Flooded Lead-Acid: These batteries are the most commonly used and they are what cars use to start their engines. Flooded lead-acid batteries must be maintained to ensure that their electrolyte remains full. They also release corrosive, flammable gases when charged and should be kept in ventilated areas where it is not possible to breathe them.
AGM (Absorbed Glass Mat): AGM batteries are lead-acid batteries that don't require any maintenance. AGM are safe to install in enclosed areas or in living spaces. They are however more costly than flooded lead-acid battery.
Although lead-acid batteries can be quite affordable, they require special charging to maintain their health. A set of lead-acid battery will last for RVers approximately 1-3 years if used regularly. You can only partially discharge lead-acid battery packs. This is a very important fact. They can be damaged if they are not fully charged. It is important that they are fully charged each day. This is often impossible with a solar charger so you may need to use a generator. Flooded cells require regular equalization to boost the voltage and balance them out.
The latest technology in energy storage for RVs is lithium-based batteries. They offer many advantages over lead-acid. These batteries can store approximately 4 times as much power per pound than lead-acid and will last up to 5-10 times longer than the average lead-acid battery. They don't require a lot of charging, can be charged as low as you need, and don't need to be recharged daily.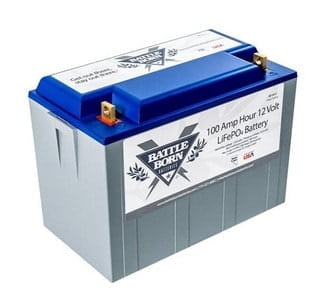 View on Amazon
They are the best kind of battery for solar chargers, but they do come at a higher price upfront. One lithium battery will usually last four times as long as a lead-acid battery, so it is worth the extra cost. These batteries are cheaper and will save you money in the long-term. We recommend Battle Born Batteries for their high quality and excellent customer service.
Battery Energy Ratings: Deep cycle RV batteries are rated in amp-hour capacity. This rating refers to how much the battery should be capable of discharging in an hour. But, battery capacity can be compared but not necessarily apples to apples. A lithium battery can deliver all its power while a lead-acid battery will give you only 50-60%.
Ready… Best RV Solar Battery
The benefits of a solar battery charger/Disadvantages
Get started with solar battery charging
We are huge fans of solar energy for our lifestyle and adventures. We hope that you feel more confident about taking the first steps in solar battery charging.
Last but not least, you can also watch this video if you're interested in building an RV solar system that will allow you to do off-grid boondocking as well as run your entire rig.
---
FAQ:
What Size Solar Panel Do I Need To Charge My RV Battery?
A 100-watt solar panel will provide 30 amp-hours of power to your batteries. To match your solar power requirements, you will need either 1.33 100-watt panels or one 133-watt panel. A panel can only be purchased in one third. A 133-watt panel is not possible. You can still buy a 160-watt panel.
How Long Does It Take To Charge A RV Battery With A Solar Panel?
Depending on the size of your battery, most cases it will take. Around 5-8 hours solar panel capable of producing 1 amp of current can fully charge a 12-volt battery.
Can A Solar Panel Charge An RV Battery?
A solar panel can charge an RV battery. To determine how much power you used to charge your RV battery, you must first calculate the amount you have left. The rating of your heater will be in watts or amps.
What Can RV Solar Battery Chargers Do?
A solar panel converts sunlight into electrical energy which is then used to charge batteries. For RV batteries that are not being used, small solar panels with 15-20 watts are useful. Larger panels that have 100-150 Watts or more can provide enough power to charge the batteries for a whole day.
How Do RV Solar Battery Chargers Work?
The batteries can be charged and the RV can still use power. The batteries can store solar charge to be used at night when the sun isn't shining as much, or on cloudy days. The stored electricity is transferred to any device that uses electricity by plugging it into the batteries.
How Do Solar Battery Chargers Work?
The solar battery charger converts sunlight energy into electricity, which can then be stored in a battery. Photovoltaic solar panels are used to produce on-site electricity.
---
---
Similar products in the category
Solar Сategories
---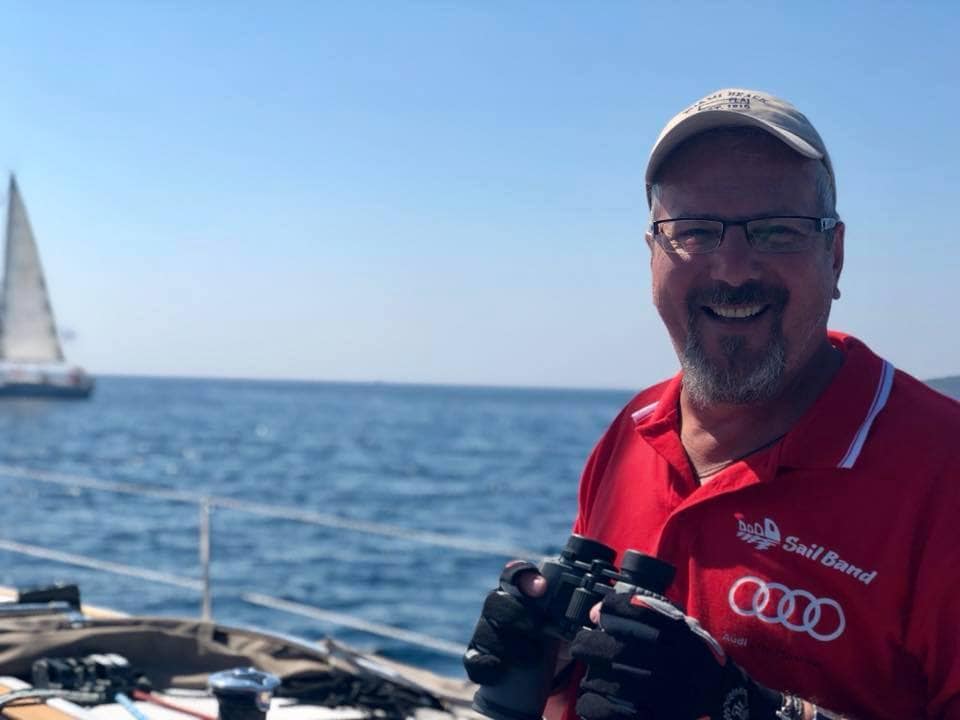 Is an environmental and renewable energy specialist with over 10 years of expertise within the renewable and solar industry.
With over a decade of experience in various organizations within the field, He runs MySolarPerks as a passion-driven project that promotes sustainable renewable energy ideas and products.