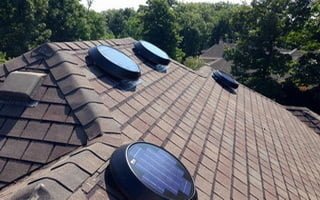 10 Best Solar Attic Fans
A solar attic fan can be a useful and efficient tool to maintain proper ventilation while saving money on your utility bills. It circulates hot air through the attic and allows cooler air to flow in.
Since attic fans remove the hottest air in the home, your air conditioner will be more efficient and you may be able to run it less while still effectively cooling your home. Because they don't require modification to the electrical wiring of your attic or altering the structural design, they are simple to install and set up. You can also save on electricity costs by using photovoltaic solar panel power.
If you are looking for an effective, energy-saving, and environmentally-friendly solution to cool your attic heat, solar-powered attic fans are a great option.
This is a complete review of some of the best solar attic fans available on the market.
Top List Solar Attic Fans
Review Solar Attic Fans
For your consideration, here is a detailed look at some of the best solar attic fans available.
View on Amazon
Technical Specifications
Size: 2 x 14.5 x 9.8 inches
Weight: 13.47 pounds
Fan Wattage: 25W
Panel Wattage: 30W
Material: Steel
Air Flow Capacity: 1960cfm up to 2000 square feet
Plug Profile: Gable vent
Warranty: Not Indicated
Adjustable solar panel: Yes
Parts included in the package: Solar panel, fan with housing, mounting brackets, hinges, and mounting screws
The ECO-WORTHY 25W Solar Attic Fan is built to perform in low light conditions. It can operate at a low voltage (4V) and works well on cold days. It does not work at night or when it is extremely cold.
The best place to install it is on a gable vent. However, an expert can make some adjustments to get it onto the roof. It can be used in RVs, greenhouses, and garage sheds as well as outdoors.
The ECO-WORTHY ventilator has an upgraded motor that is quiet, fast, uses less energy, runs quietly, and lasts twice as long as a regular motor. The unit comes pre-installed with a 16-foot, 8-inch solar cable.
Five blades are made from 104 stainless steel. The blades can be bent in any direction to allow for easy installation and to adjust to the wind direction. It can move large volumes of air and can hold 1960 cubic feet.
ECO-WORTHY states that the warranty covers all parts of this ventilator, including faulty fans and missing assemblies. The warranty period is not listed on Amazon's product page.
View on Amazon
Technical Specifications
Size: 14 inches
Weight: 30pounds
Fan Wattage: 30W
Panel Wattage: 20W
Material: Aluminum, nylon, and steel
Air Flow Capacity: 1750cfm up to 2000 square feet
Plug Profile: Roof
Warranty: 15 years on the fan
Adjustable solar panel: Yes
The package includes the following parts: A solar panel, fan with housing and mounting bracket, hinges, and mounting screws
This solar attic fan has been designed for efficiency and durability. It is manufactured in San Francisco, California. The aluminum casing and polycrystalline solar panel are used. The fan comes with a 15-year warranty from the manufacturer.
The angles of the solar panel can be adjusted to 9, 15, 30, and 45. The motor can be run by it with a power supply of up to 20W. The motor is powered by a brushless motor that is 1P68 rated. This means it is completely waterproof and impact-resistant. The fan has 6 blades and can move 1750Cfm to 2000 sq. It can be kept running all year round by consuming approximately 3.5 cubic feet.
The smart thermostat of the I living hybrid solar attic fan controls the attic temperature within a predetermined range of 65 to 130f. An AC/DC adapter kit is available separately to further customize the fan. Other features include a power-on/off switch, and a screen protector.
View on Amazon
Technical Specifications
Size: 6 X 9.5 X 4.6 inches
Weight: 2.14 pounds
Fan Wattage: 3W
Panel Wattage: 3W
Material: stainless steel casing and fan blades
Air Flow Capacity: 500 cfm
Plug Profile: Roof
Warranty: 5 years
Adjustable solar panel: No
The package includes the following parts: The solar panel, the fan with housing, hinges, and mounting screws, as well as spare blade and screws.
This is the right product for you if you're looking for an affordable but powerful solar attic fan. The ECO-WORTHY is a solar-powered attic fan that's versatile and highly productive. It can be used on roofs, sheds, and garages as well as caravans and boats.
The fan's intake and exhaust blades can deliver up to 500cfm. You can switch the fan on or off. The product includes a spare blade for push-pull operation. The unit operates quietly.
This solar attic fan is distinguished by its built-in rechargeable lithium batteries. The fan runs even in very low light conditions or when it is extremely cold. The mounting holes are pre-drilled and the screws can be tapped. It is made from stainless steel and is therefore durable, rust-resistant, and resistant to corrosion.
View on Amazon
Technical Specifications
Size: 22 X 22 X 11 inches
Weight: 30pounds
Fan Wattage: 30W
Panel Wattage: 20W
Material: Aluminum, nylon, and steel
Air Flow Capacity: 1750cfm up to 2000 square feet
Plug Profile: Roof
Warranty: A 30-day satisfaction guarantee and a limited warranty of 15 years on the fan
Adjustable solar panel: Yes
The package includes the following parts: A solar panel, fan with housing and humidistat, thermostat, mounting screws, hinges, and a hinge.
The Remington 30W solar roof fan is engineered to effectively control moisture, lower temperatures, and ventilate your attic. The brushless motor drives the solar attic fan and produces 24-38v. It does not make contact with the ground when it is operating and produces no noise. This reduces friction-related wear and tear.
The motor is quiet but can move large volumes of air. The fan can move up to 2200 Cfm over 2,200 sq. 1 ft. To maximize power generation, the solar panel can be adjusted to these angles: 0,15 to 35 to 45.
The solar attic fan has a thermostat and smart humidistat that can be controlled from your smartphone. You can also fit a 110v hybrid adapter so it can function both at night and in cold conditions. You will need to purchase the hybrid adapter separately, as it doesn't come with a fan. It is weather, hail, and waterproof.
If you aren't satisfied with the fan, you can return it to the manufacturer for a full refund or a 30-day exchange. The manufacturer also offers a limited warranty of 15 years on the fan.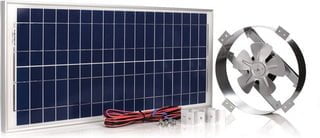 View on Amazon
Technical Specifications
Size: 25X22X6 inches
Weight: 12 pounds
Fan Wattage: 12v dc
Panel Wattage: 50W
Material: Aluminum finish, alloy steel, and crystalline panel
Air Flow Capacity: 2000cfm to 2200 sq. feet
Plug Profile: Attic roof
Warranty: 25-year warranty for fan blades, solar panels, and motor.
The solar panel that can be adjusted: Yes, but it is possible to add mounting brackets so that they can be made adjustable.
The package includes the following parts: a solar panel, fan with housing and thermostat, hinges, mounting screws, and a thermostat (on request).
The 50W Amtrak solar roof fan is highly efficient and powerful. It's also very versatile.
You can use it for a variety of purposes, such as a shed or cabin, gazebo, garage, greenhouse, or RV. You will find extra brackets and wires to make it easy to set up wherever you want. It is easy to fit in the gable, without any complicated wiring or drilling on the roof.
The cooling system comes with 10-inch fan blades. It is multidirectional and has a push-pull reversible operation. The fan can move up to 2000cfm and cover an area of 2250 sq. It can cover up to 2250 sq. Fan blades operate quietly and with high precision.
A high-torque, ball-bearing motor drives the fan. To ensure that the motor does not heat up, it is thermally protected. The solar panel is made from high-quality crystalline to maximize power production. Mount brackets can be purchased to adjust the panel's position.
Customers can request a thermostat free of charge to be included with their fan. The thermostat can be easily added to the fan. The thermostat will also come with the connectors and instructions manual if requested.
This solar attic fan comes with a 25-year warranty from Amtrak Solar. The warranty covers fan motors, blades, and solar panels. This fan is warranted by the manufacturer and can last for up to 30 years.
View on Amazon
Technical Specifications
Size: 5X29.9X7.75 inches
Weight: 20.7pounds
Fan Wattage: 12v dc
Panel Wattage: 28W
Material: Plastic casing, aluminum fan blade, and polycrystalline silicon solar panel
Air Flow Capacity: 537cfm up to 2200 square feet
Plug Profile: Roof
Warranty: Fan and solar panels are covered by a 6-year warranty, motors have a 2-year warranty.
Adjustable solar panel: No
The package includes the following parts: A fan with housing, a solar panel, and a thermostat.
Broan-NuTone 28 Watts Solar Attic Ventilator has a compact, low-profile design that creates a more comfortable and cooler attic. Its low-profile design allows it to fit on many roof styles. Its compact design means that the ventilator can be installed on any roof. For easy installation, it comes with steel brackets and stainless steel fasteners.
It can withstand extreme weather conditions and repel pests. The fan and motor are protected by a heavy-gauge aluminum screen. The weather-resistant tempered-glass-like, polycrystalline solar panel material makes it possible to withstand the strongest wind gusts and the largest hail.
It comes with a 12-inch fan, with 5 blades and a 537 CFM capacity. It is made of aluminum and powered by a direct current motor, which offers quiet operation and superior performance.
View on Amazon
Technical Specifications
Wattage: 25W
Venting Capacity: 1,820 CFM (2,600 square feet of attic space)
Assembled Dimensions: 24″ x 12″ x 24″
Motor Voltage: 38 volts
Number of blades: 3
Material: 20-gauge steel
Warranty:
Motor: 5-year limited
Solar panel and housing: 20-year limited
The US Sunlight solar fan is another decent option. To maximize sunlight exposure, this roof-mounted model has a tilted panel. This ventilator can ventilate large areas, which is undoubtedly an advantage.
There are however some limitations. US Sunlight solar fans are only compatible with shingled roofs. If your roof is flat or slate, you won't be able to use it. It doesn't offer the hybrid electric capabilities that some of its rivals have. It's still a good deal if you have an asphalt roof.
View on Amazon
Technical Specifications
Roof or Gable-Mounted
10 to 25 Watts
800 to 1820 CFM
20-Year Limited Warranty
Air Vent, Inc. You can also find some high-quality solatube attic fans on their website. You can choose between roof-mounted or gable-mounted fans. The roof-mounted fans have the option to have the fan and panel separately.
You can choose between the 10 watts and the 25 watts depending on how big your attic is. The product comes with a 20-year limited warranty. This means that you are covered in the event of a problem.
These solar fans are only compatible with shingled roofs. They do not have hybrid electrical capabilities.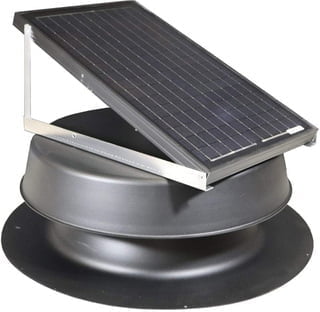 View on Amazon
Technical Specifications
Roof-Mounted
32 Watts
1560 CFM
25-Year Warranty
Natural Light is another brand that is dedicated to providing quality solar attic fans. The Natural Light Energy SAF32B Solar Attic Fan is a good option for a roof-mounted solar-powered fan with basic capabilities.
The tilted panel allows for optimal sun exposure and runs very quietly. CFM is not to be dismissed. It could keep a 2200-square-foot room cool.
This model has two drawbacks: it is only compatible with shingled roofs and doesn't come with an electric adapter.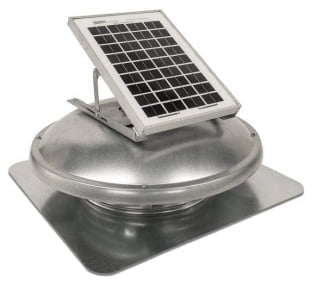 View on Amazon
Technical Specifications
Roof-Mounted
15 Watts
500 CFM
Galvanized Steel
5-Year Limited Warranty
The Master Flow Solar Power Roof Mount Attic Fan is one of the best solar attic fans for keeping a small attic space cool. It has been shown to increase attic ventilation and conserve energy.
It is however much less powerful than the majority of other fans in this list, with a 15 Watts output and 500 CFM. This model is not recommended for large attics. Its tilted solar panel, proven efficiency, and the 5-year warranty would be a good fit for a smaller attic.
---
Bues's guide – Choosing the best solar attic fans
After you have seen the comparison of the top 10 solar attic fans, it is time to decide which one will be the best match for your home. Your home's layout and construction will dictate the type of solar attic fan you should choose. We'll be discussing the three types of solar attic fans in this section.
Gable-Mounted
A gable-mounted solar fan mounted on the roof of your home could be the best choice. This allows for simple installation. It is easy to connect the unit to your roof and plug it in. This is much easier than installing a solar attic fan on your roof.
Gable-mounted fans are less efficient than roof-mounted fans because of their placement. There is therefore a tradeoff. To maximize your unit's exposure to sunlight, you must place the unit in the right way. This is a little tricky due to the gable mounting, but not impossible.
A gable-mounted solar fan may be the right choice for your home if your home has enough space.
Roof-Mounted
Although roof-mounted solar attic fans can be powerful and efficient, they require more complicated installation. To make it work properly, you will need to make a hole in your roof and install the fan. This process can be time-consuming.
Because of the complexity involved in roof-mounted fans, many people hire professionals to install them. The roof-mounted solar attic fan is more expensive than other types, but it's worth the extra cost because of its efficiency.
Roof-mounted models, despite their inconvenience, are some of the most popular solar attic fans. They tend to work better than other types.
Roof-mounted solar fans are the most efficient because they get maximum sunlight exposure. This may offset the initial installation cost.
Portable
For those who want to be mobile, portable solar fans are a great option. You will receive the fan and the panel in two pieces that are connected by wires. These panels don't require any complicated installation and can be placed almost anywhere.
These are great for venting attics. However, they can also be used to ventilate smaller spaces such as sheds or RVs. These can be taken with you to camp or on the move.
These are all great features, but they do not offer the same power as roof-mounted or gable-mounted solar fans. These fans still work well but compromise the ventilation quality to allow for greater versatility.
---
Solar Attic Fans Buying Guide
Choosing the best solar company for your solar attic fan for you can be a tough decision. This article will help you make an informed decision by explaining what a solar fan is, how it works, the advantages over air conditioning systems, and the main components. This buying guide will also provide some tips on what to look for in a solar roof and the factors you should consider.
Solar Attic Fan vs. Air Conditioning: Advantages
Here are some of the advantages solar attic fans offer over air conditioning.
Solar attic fans are very quiet they are. They don't make as much noise as other air conditioners when they are in use.
They are also cheaper. Solar attic fans cost less to install and maintain than air conditioning systems. They are just as effective at cooling the attic as air conditioners. They can be operated from anywhere. Solar panels do not increase the cost of electricity. They can also cool the rest of your house, particularly the rooms that are adjacent to the attic. These rooms can use less electricity thanks to their cooling systems.
It is easy to install. Solar attic fans, unlike air conditioners that require significant modifications to your electrical wiring or structural changes in certain cases, are usually quick and simple to install.
Additional Benefits of the Best Solar Attic Fan
They are very efficient they are. They provide adequate ventilation for the attic. Some solar attic fans can be thermostatically controlled to turn off when it's cooler and run when the temperature is high.
Your state may offer tax credit incentives. Members who are interested in conserving energy and going green may be awarded by states. You may be eligible for a federal tax credit of 30% on both the purchase and installation costs of an Energy Star-rated solar fan.
They protect your property against damage. Excess heat can cause damage to your roof system from the inside if it builds up for too long.
Safe solar attic fans. The electric attic fans can pull carbon monoxide from gas appliances below ground level. Solar attic fans, on the other hand, work gently to move hot air out and let cool air in.
The Main Parts of a Solar Attic Fan
Although there are many different types of solar attic fans on the market, they all have their specifications: size, shape, weight, and number of fan blades. However, the majority of them share the following main components:
A photovoltaic solar panel that powers the fan
Mount or bracket for the solar panel. This attaches the panel to the shroud. It can also be used for adjusting the angle of the solar panel.
It houses the solar panels
Shroud bracket. Attach the shroud bracket to the roof or gable
DC motor. Transmits solar energy to the motor
Motor isolation bracket. This bracket separates the fan blades and the motor.
High output fan blade. It circulates air throughout the room.
Flashing that is heavy-duty It is located at the bottom of the shroud. It covers the animal screen and fan blade.
Solar attic fans can be equipped with an automatic thermostat, which allows you to set the ideal temperature.
Protective animal screen. Protects fan blades from small animals, insects, and debris. Some panels are protected with a screen, while others don't.
There are several factors to consider when choosing a solar attic fan
There is no one right solar attic fan. Your needs, budget, and other factors will all play a role in choosing the right solar attic fan. Here are some things to consider when choosing the right solar attic fan.
Type of roof you can install solar attic fans on your roof or gable. Roof-mounted fans work best on flat or pitched roofs. Gable-mounted fans can be installed on existing gables.
Your attic's size. Divide 0.7 by the square footage to determine the size fan you should buy. Your home's square footage. Answer: The minimum amount of air the attic fan should circulate per minute.
The roof of the attic is shaped. To move air on a steep roof, a fan will need to be more powerful than a fan on a flat roof.
There are installation costs and expert knowledge. It is recommended that you hire a professional to install your solar attic fan. Gable solar attic fans can be installed easily and are less expensive than roof fans.
The solar attic fan position. The solar panels in the solar attic fan are powered by solar energy. Therefore, the panel must be placed where the sun shines the most during the day. This ensures that the panel is always in operation.
What are the Key Features of a Solar Attic Fan?
These are the key features to look for in solar attic fans
Adjustable solar panel bracket. A solar panel with an adjustable angle can be adjusted to maximize exposure to sunlight and UV rays.
Durability. The solar panel will be mounted on the roof and will be exposed to severe weather conditions such as rain, storms, snow, hailstones, hurricanes, UV radiation, strong winds, snow, hailstones, etc. You should choose durable, corrosion-resistant, waterproof, and impact-resistant construction materials.
Solar attic replacement parts were available. We hope the equipment will last us many years and not get damaged. This is often not the case. You should be able to easily find replacement parts if the solar attic fan is damaged. To ensure they also sell spare parts, check the manufacturer's site. You can also opt for a solar fan with a warranty that covers repairs or replacements.
Versatility. Different roofing systems will work well with the solar attic fan. Solar attic fans can be used in many spaces including outdoors, boats, garages, and sheds.
It is quick and easy to set up. A solar attic fan is easy to install without requiring major structural changes or wiring modifications.
Blades for high-performance fans solar fan attic that maximizes the use of solar energy for maximum functionality are ideal. The fan blades are larger and more powerful, which makes the solar fan attic more powerful. A solar attic fan with high cfm is a good choice if you have a large attic.
Is there a warranty? An attic that has a comprehensive warranty with a longer duration is an indication that it is reliable and durable. You should carefully review the warranty.
You are eligible for federal solar tax credits if possible. This will help you save money on installation and price.
Highly rated with many positive reviews. To determine whether the solar fan you are interested in is reliable, check out the reviews on different platforms.
It is a good idea to get advice from a professional if you are unsure about which type of solar attic fan or its specifications.
Solar attic fans will reduce your monthly air conditioning costs and keep your attic cool. Use the reviews and guidelines provided above to choose the most suitable solar attic fan for you, and you might qualify for a solar tax credit.
---
FAQ:
How Many Solar Attic Fans Do I Need?
There are many options for attic fans. So how can you choose the right size fan? 700 CFM is the minimum size for an attic fan for every 1000 square feet. This should be 840 CFM for every 1000 sq. For a dark roof, it should be 805 CFM for 1000 sq.
Why Do You Need A Solar Attic Fan?
Solar attic fans keep moisture-related damage from harming the roof. A solar attic fan removes moist, warm air year-round from the attic and reduces the risk of roof damage.
How Do Solar Attic Vent Fans Work?
Energy Star explains the main function of a Solar Attic Fan System. Cool down a hot attic with hot air being pushed outside and cooler air is drawn in from the outside. Solar attic fans allow warm and moist air from the attic to be vented by creating a steady, constant airflow.
Do Attic Fans Really Help?
Attic fans are very useful. They can circulate the air in your attic and keep it warmer than the outside. Attics can be extremely hot in summer and may accumulate excessive moisture during winter. These problems will be tackled by attic fans.
How Can A Solar Attic Fan Help Improve The Efficiency Of Your Home's AC Unit?
A solar attic fan can reduce the temperature in your attic. This will make your home cooler, and allow you to raise your thermostat by up to 10deg, while still maintaining comfort.
How Long Does A Solar Fan Installation Take?
They can easily be installed on just about any roof. Two hours by a certified installer, you will immediately see savings.
Which Roof Types Are Compatible With Solar Attic Fans?
You can install attic ventilation solutions virtually anywhere on any roof for residential, commercial, or utility purposes. All roofing materials are accepted, including tile, clay tile, wood shake, and composite shingle.
---
---
Similar products in the category
Solar Сategories
---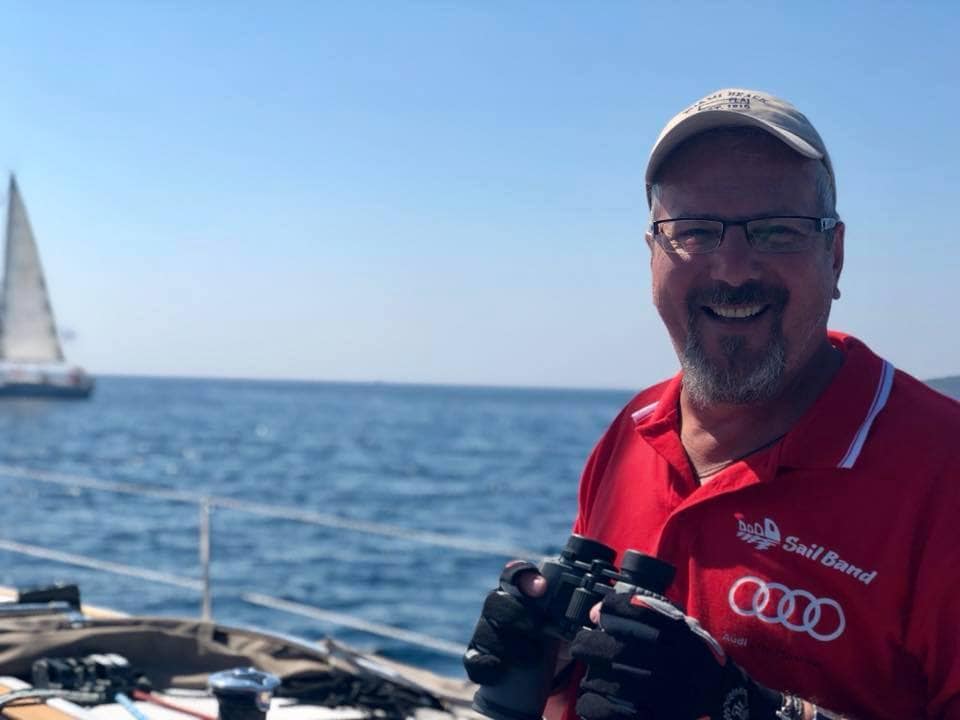 Is an environmental and renewable energy specialist with over 10 years of expertise within the renewable and solar industry.
With over a decade of experience in various organizations within the field, He runs MySolarPerks as a passion-driven project that promotes sustainable renewable energy ideas and products.